Jindřich Flusser
Born in 1917 / Prague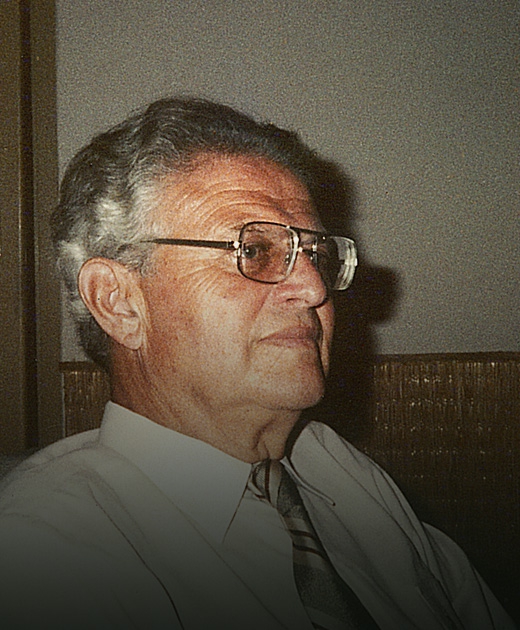 "So I made the biggest career of my life: I became a Blockschreiber (block clerk or registrar) working for Toník Kalina."
The closest colleague of Antonín Kalina and fellow saviour of Jewish children in the concentration camp.
1917
Jindřich Flusser, a doctor, translator and close friend of Kalina, was born in Prague on September 20, 1917.
1939-1941
He graduated from the German Real Grammar School, and his subsequent medical studies at Charles University were interrupted by closing the universities in 1939. Although he had the opportunity to emigrate, he decided to stay with his parents and was imprisoned with them in the Terezín ghetto in December 1941. The Holocaust affected Jindřich Flusser's life as tragically as hundreds of thousands of the others, but during the horrors of the war, Jindřich also met the two most important people in his life: his future wife Judita and his lifelong friend Antonín Kalina.
1943-1944
Jindřich worked as a medical student, speaking German and French, in the infirmary. Judita, who Jindřich had met in Prague before leaving for the ghetto, worked in Terezín as a baby nurse. They met on the grounds of the Magdeburg barracks on February 14, 1943 thanks to Rabbi Leo Beck of Cologne. However, this great personal happiness could not save the family of Jindřich Flusser from the horrors of the outside world. After a painful journey in a cattle carriage, the family arrived in Auschwitz in May 1944, in a so-called family camp. Here, Jindřich was separated from his mother and his beloved wife during the initial selection. Thanks to his bravery, courage, medical knowledge and the necessary dose of luck, Jindřich managed not only to survive in the drastic conditions of the concentration camp, but also he selflessly helped other fellow prisoners.
1945
The approaching front line and the Nazis' fear of the Soviet army resulted in the infamous death marches. However, in extreme conditions of the harsh winter of 1945, Jindřich Flusser was able to survive both the march to Gross-Rosen and the subsequent several-day journey in an open wagon to the Buchenwald camp. In Buchenwald, Antonín Kalina chose him as a skilful scribe and gradually made him his closest colleague. Together, they changed the names and nationalities of the children entrusted to them in the children's block in ingenious ways to disguise their Jewish origin. Jindřich Flusser thus took an active part in rescuing almost a thousand Jewish boys. "Antonín Kalina? He understood not only shoes. He also understood people. Twelve hundred were entrusted to him. Twelve hundred human cubs, unlike children who were marked by death by the Reich and whose mothers were killed. It was only here, in Block 66, in the Little Camp in Buchenwald, behind the loaded wires and within range of SS machine guns, that they became children again. They played, sang, and learned to laugh again. Toník was their father ... "After the war, Jindřich Flusser completed his medical studies and worked as a doctor, first at III. Internal Medicine Clinic in Prague, then as an internist and director of the company health center in ČKD, later at the 1st Internal Department of Na Bulovce Hospital. Already in the 1960s, he began translating German poetry, including works by H. Heine, E. Kästner and R. M. Rilke, and also worked together with Czechoslovak Radio.
1994
Jindřich Flusser died in Prague in 1994, surviving his biggest life friend "Toník" by only five years.
2010-2012
Jindřich Flusser elaborated his experiences from concentration camps in the book Život na úvěr (Life on Credit). The book was published by his family at their own expense in 2010 and among other things we can read about the first meeting of Jindřich Flusser with Antonín Kalina: Outside, a short distance from the barracks, stood a small, slender, unknown prisoner of indefinite age. When I approached him hesitantly, he addressed me in Czech: "I am Kalina. Toník." He looked at me for a moment with his gray-blue eyes from under his thick eyebrows and said: "Can you write?" I kept looking at him with my mouth open. "So what? I ask if you can write, not scribble in any way, in a doctor style. Come on." He explained the most important thing to me along the way. As a blockman in Block 66, he gathered the children there. There are many of them. All the transports are coming now, wretched. He can't send them to work, they would perish, and he can't leave them among the wild adults either, so he exchanges a few dozens of them a day for adults and will soon have them all together. He needs someone who can also talk to the French and the Dutch, and especially someone able to write. So I made the biggest career of my life: I became a Blockschreiber (block clerk or registrar) in the Little Camp in Buchenwald with Toník Kalina. Jindřich Flusser stayed friends with Antonín Kalina until Kalina's death in 1990. He took care of Kalina's health and, in an effort to help him as to a socially disadvantaged friend at the time, Flusser repeatedly tried to obtain the title of Righteous Among the Nations for him in the late 1980s and a related annuity. However, Antonín Kalina was not awarded the title of Righteous Among the Nations until 2012.